Experience the exhibition Barry McGee: SB Mid Summer Intensive in a whole new way in the Art Lab, an interactive interpretive space that encourages active engagement with the art and artists featured in the exhibitions. Visitors are invited to explore educational resources and get creative: voice their opinions and make a sign for the Protest Fence, color an abstract design and become part of the Abstraction Wallpaper, draw expressive cartoon faces for the 99 Bottle Wall, and add a sticker with their alias to the Tagger Doors. The Cozy Corner invites visitors to listen to the tunes of the curated exhibition playlist, watch videos and browse the iPad for information on the artist, and enjoy the books in the art library for adults and kids of all ages.
99 Bottle Wall
Which emotion would you express? Visitors to the Art Lab are invited to draw cartoon faces on labels to be added to the "99 Bottle Wall" installation inspired by Barry McGee.
McGee's signature "sad faces" embody the emotions and lived experiences of people he encounters in urban communities. The slumped and droopy-eyed emblematic characters, whose faces shift with wistful and sullen expressions, have appeared consistently in McGee's graffiti and installation works.
Open PDFs of the 99 Bottle Wall activity:
Abstraction Wallpaper
Barry McGee's exhibitions often feature expansive installations of geometric abstractions that take over the walls and corners of the exhibition space, weaving a complex array of patterns into a wallpaper of sorts.
What are your favorite color combinations? Follow the design patterns featured below, then piece them together to create your own abstraction wallpaper.
Open PDFs of the Abstraction Wallpaper activity:
Coloring sheet 1
Coloring sheet 2
Coloring sheet 3
Coloring sheet 4
Coloring sheet 5
Protest Sign Fence
Artist Barry McGee's concern for disenfranchised people and communities holds a place in much of his artwork and has remained a definitive component in his creative approach since his beginnings as a graffiti artist.
Signs displayed on our Protest Fence represent the concerns of our visitors and the causes they support.
What are you fighting for? Make your own sign to carry your message around with you.
Open PDFs of the Protest Fence Activity: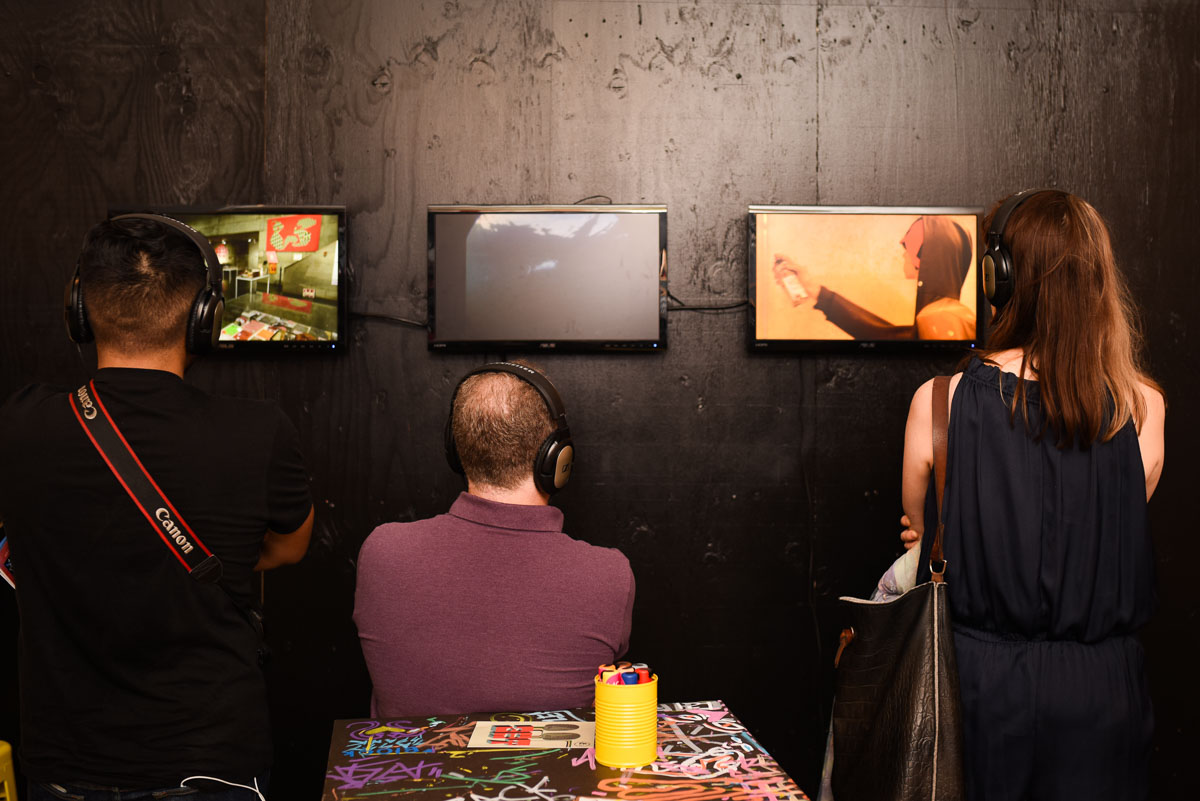 Past Art Labs
Experiment with ideas of appropriation and abstraction found in Kota Ezawa: The Crime of Art in the Art Lab, an interactive interpretive space…
Experience the exhibition Barry McGee: SB Mid Summer Intensive in a whole new way in the Art Lab, an interactive interpretive space that…
Featuring Cecily Brown: Rehearsal and Bloom Projects Exchange Series: Midori Hirose, Of the Unicorn (And the Sundowner Kids) January 28 - June 3,…