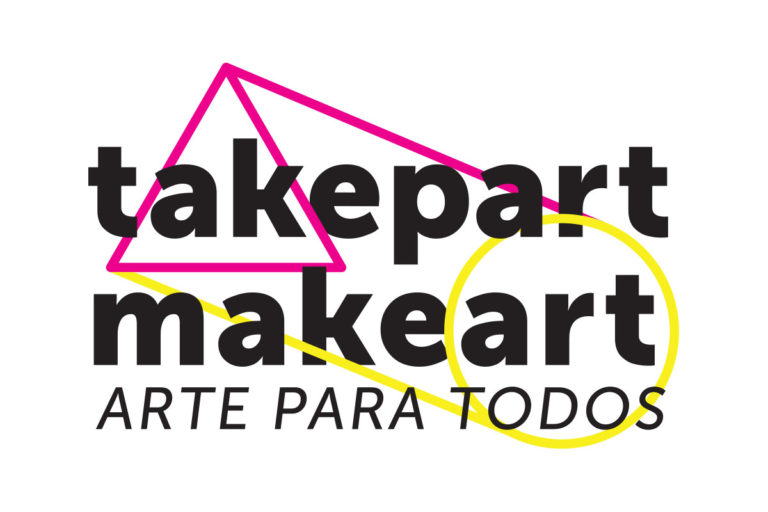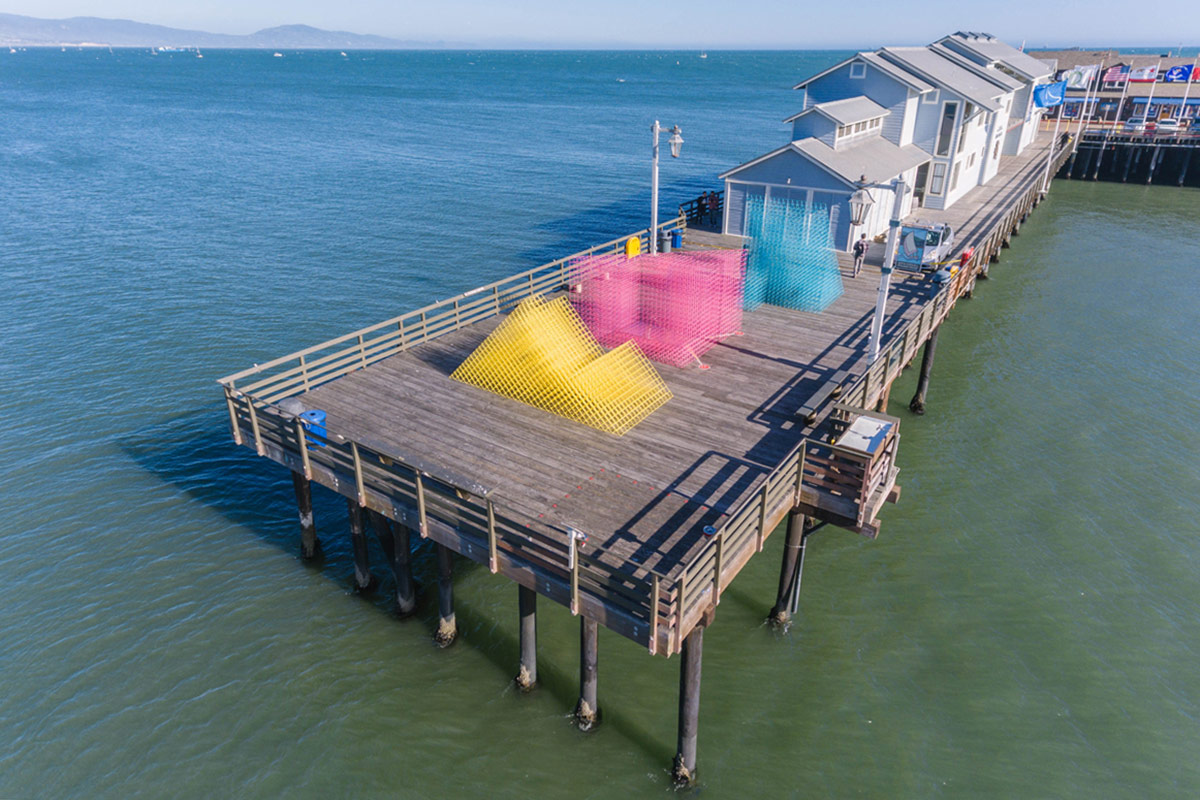 The Museum of Contemporary Art Santa Barbara brings art outdoors with takepart | makeart: arte para todos!
Between March and August 2017,  Runaway, our vibrant art pavilion, traveled  to Santa Barbara's Waterfront, Westside, and Isla Vista neighborhoods. Each location featured interactive arts programs led by internationally-renowned artists Cruz Ortiz, Tanya Aguiñiga, and desertArtLAB.
Today, Runaway continues its journey to new regions, including the pavilion's current installation at 209 State Street in front of the City Depot Parking Lot and adjacent to the Amtrak train station.
Viewing the artists' temporary projects as catalysts for long-term creativity, MCASB partnered with local organizations and artists to activate the pavilion as an outdoor platform and gathering space for additional art workshops, performances, and public programs throughout the course of takepart | makeart. By engaging local residents and community organizations as co-creators in these projects, takepart | makeart generated dialogue, connection, action, and exchange around critical social, environmental, and political issues facing Santa Barbara.
Open to the public, free to participate, and with bilingual programming in Spanish and English, takepart | makeart provided Santa Barbara's diverse communities with new opportunities to explore contemporary art in the neighborhoods where we live, work, and play.
Runaway made its journey throughout various neighborhoods in Santa Barbara:
Thursday, March 23 - Friday, April 7, 2017: Stearn's Wharf, next to the SBMNH Sea Center

Friday, April 7 - Tuesday, April 19: Santa Barbara Airbus (750 Technology Dr, Goleta, CA 93117)

Wednesday, April 19 - Tuesday, May 30: Estero Park (886 Camino del Sur, Isla Vista, CA 93117)

Wednesday, May 31 - Tuesday, July 5: Elings Park (1298 Las Positas Rd, Santa Barbara, CA 93103)

Wednesday, July 5 - Wednesday, August 15: Harding Elementary School (1625 Robbins St, Santa Barbara, CA 93101)
April 2018 Announcing the Pop-Up Installation of Runaway by SPORTS on Buellton's Avenue of Flags.
Context
With funding sources for high-quality arts programming being cut at the national, state, and local levels (for example, see the recent closure of Santa Barbara's Incredible Children's Art Network (iCAN) and, of course, the possible defunding of the NEA and NEH), takepart | makeart: arte para todos developed out of the need to expand access and increase opportunities for engagement with contemporary art and artists, especially among Latinx, low-income, and youth communities. Specifically, takepart | makeart: arte para todos explored how MCASB can develop contemporary arts programming that is responsive to and inclusive of Santa Barbara's complex sociocultural contexts and diverse communities. By inviting socially-engaged contemporary artists to work collaboratively with local residents and in partnership with community organizations, takepart | makeart: arte para todos aimed to foster new forms of community visibility, representation, and creative problem-solving that address pressing issues in Santa Barbara.
Artists
As part of takepart | makeart: arte para todos, MCASB commissioned new work from three innovative contemporary artists, all of whom have extensive experience working in the public sphere: Cruz Ortiz, Tanya Aguiñiga, and Matt Garcia and April Bojorquez of the collaborative desertArtLAB. Each of the three artists featured in takepart | makeart: arte para todos were selected by MCASB's curatorial team, working in conjunction with the recommendations of a community-based Latino Arts Advisory committee. The projects commissioned for takepart | makeart: arte para todos were developed organically by the artists in response to site visits in Santa Barbara, along with conversations, feedback, and input from local community organizations.
Cruz Ortiz
"Realizing that Santa Barbara is an epicenter of extreme mixing of cultures, I wanted to create a mobile machine that produces images, texts, and sound as though it were on a mission. That mission is to introduce and connect communities. This [project] is not about discovery, it is about the opportunity to communicate basic human expressions through art."  –Cruz Ortiz
Based in San Antonio, TX, Cruz Ortiz uses print, performance and film to address issues related the bicultural landscape of South Texas. His particular visual language fuses classical art with contemporary pop culture references such as taco trucks, country music, and romantic poetry.
El Johnny the Satellite is a musical, printmaking bicycle that will serve as Ortiz's project for takepart | makeart: arte para todos. Born out of an observation that Santa Barbara is comprised of a number of unique cultural communities, El Johnny the Satellite creates connection points for these seemingly disparate linguistic, sociocultural, and geographic elements of the city's history and present. El Johnny the Satellite will pop up all over the Waterfront district in March and Isla Vista neighborhood in May.
Tanya Aguiñiga
"As a woman, whose family history is strongly connected to farm labor, my projects in Santa Barbara come from a deeply personal place of caring for our safety and culture through collaborations with the Santa Barbara Rape Crisis Center, Mixteco Indegena Community Organizing Project (MICOP) and Andrew Williamson farm."  –Tanya Aguiñiga
Raised in Tijuana, Mexico and San Diego, CA, Tanya Aguiñiga is an award-winning artist, designer, and craftsperson based in Los Angeles, CA. Her work merges craft and performance to generate dialogues about identity, culture, and gender with the aim of fostering community and connections.
In April 2017, for Sexual Assault Awareness Month, Aguiñiga partnered with the Santa Barbara Rape Crisis Center to bring awareness to sexual assault via art making workshops and talks in the Isla Vista neighborhoods as her first project for takepart | makeart: arte para todos. For her second project in June 2017, Aguiñiga collaborated with Porfirio Gutierrez, a Master Weaver in the Zapotec tradition, to host a series of dyeing classes, weaving lessons, and public performances on the Westside. While Aguiñiga's work takes many forms, her aim is to bridge cultural divides and inspire greater understanding of the people and places in which we live, work and play.
desertArtLAB
"Santa Barbara is an ideal place to join the conversation regarding the impending ecological reality of expanding drylands. Although Santa Barbara may not seem like a desert, California's drought and recent wildfires are an example of how we need to consider how to exist in a warmer future with less water."  –April Bojorquez
A collaboration between artists April Bojorquez and Matt Garcia, desertArtLAB is an award-winning initiative dedicated to experimental art exploring connections between ecology, sociology, technology, and community. Combining performance, visual art, and social practice, their work explores the histories and traditions associated with environmental restoration, dryland food practices, and other desert conditions.
desertArtLAB engages audiences in collaborative processes of honoring, learning from, and passing on indigenous knowledges in order to move forward together into a hotter, drier future. In light of Santa Barbara's drought and recent wildfires, desertArtLAB's takepart | makeart: arte para todos project highlighted the critical importance of California's native plants through participatory planting performances, cacti exchanges, plant-based cooking workshops, and intergenerational community dinners hosted in July 2017 in Santa Barbara's Westside neighborhood.
To create a central platform for takepart | makeart: arte para todos, MCASB hosted an architectural competition to commission the design and construction of a contemporary public art pavilion. The winning submission was a vibrantly-colored, modular pavilion titled Runaway, which served as a central meeting point and information hub for takepart | makeart: arte para todos.
Chosen for its bright, playful character, functional modularity, and thoughtful consideration of Santa Barbara's local atmosphere, Runaway was designed by Molly Hunker and Greg Corso of SPORTS, an award-winning design and architecture collaboration whose work is inspired by the border between everyday experiences and the unexpected, with a lively dose of curiosity and playfulness.
"Runaway aims to create a fun and visually dynamic environment by architecturalizing the aesthetic qualities of air in Santa Barbara. As the projects travels around the city, the three structures will be oriented differently at each of the site locations so as to have a renewed existence and to provoke new and compelling experiences at each location."  –Greg Corso
By contributing bold, contemporary design to Santa Barbara - a tourist destination and location steeped in California Mission Style architecture and culture - Runaway serves as an aesthetic catalyst and invites communities to view and interact in unexpected ways with their surroundings and, in doing so, encourages residents to consider how contemporary design can activate and energize public spaces as well as how it can connect visitors to the natural landscape – and each other. Building on these ideas, SPORTS' Runaway became a beacon around which programming by artists Cruz Ortiz, Tanya Aguiniga and desertArtLAB could take place.
In 2014, MCASB commissioned and featured new work from six innovative and contemporary Los Angeles-based practitioners trained in architecture as part of our Almost Anything Goes: Architecture and Inclusivity exhibition. Runaway, builds upon this earlier engagement with contemporary architecture and design, and expands opportunities for MCASB to explore this interest in greater depth.
Funders, Sponsors, and Partners
takepart | makeart: arte para todos was generously supported by: The James Irvine Foundation, California Arts Council, Santa Barbara County Office of Arts & Culture, Santa Barbara Foundation, The Towbes Foundation, Susan E. Bower Engagement Fund
Special thank you to our many sponsors and partners who helped make takepart | makeart: arte para todos possible: CultureSpark Media, Big Red Crane Company, Michael Patrick Porter Architect, City of Santa Barbara, City of Santa Barbara Waterfront Department, City of Santa Barbara Parks & Recreation Department, Rincon Broadcasting Company, United Boys & Girls' Club of Santa Barbara County - Carpinteria Club, Stearns' Wharf Business Association, Art from Scrap / Explore Ecology, BiciCentro, El Centro SB, Isla Vista Recreation & Parks District, Mixteco Community Organizing Project, Santa Barbara Botanic Gardens, Santa Barbara Museum of Natural History, Santa Barbara Museum of Natural History Sea Center, UCSB American Indian and Indigenous Alliance, United Boys & Girls Club of Santa Barbara - Westside Club