Featuring Cecily Brown: Rehearsal and Bloom Projects Exchange Series: Midori Hirose, Of the Unicorn (And the Sundowner Kids)
January 28 - June 3, 2018
Experience the exhibition in a whole new way in our Art Lab, an interactive interpretive space that encourages active engagement with the art and artists featured in our exhibitions. You are invited to explore educational resources and express yourself creatively: be inspired by the same images as Cecily Brown while you practice sketching with watercolors at the Rehearsal Table; express yourself in three dimensions like Midori Hirose and sculpt with clay at the Sundowner Mountain; share what stimulates your creativity and add it to the Mad Lib Inspiration Board. Relax in the cozy corner, listen to the tunes of the curated exhibition playlist, browse the iPad for information on the artists, and enjoy books in our art library for adults and kids of all ages.
Sundowner Mountain
Inspired by the 3D scanned and printed sculptures of Midori Hirose, visitors are invited to sculpt with non-hardening modeling clay following a variety of prompts.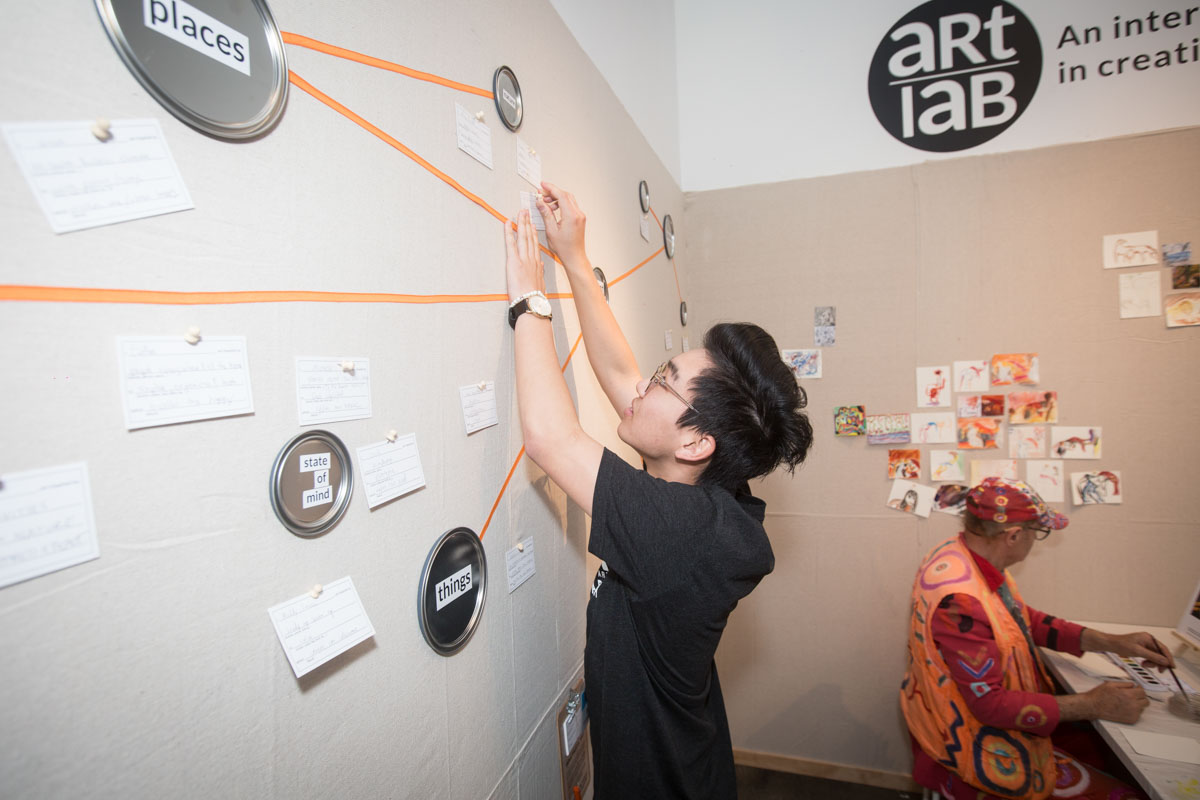 Mad Lib Inspiration Board
What Inspires You?
Artists find inspiration in many places: stories, nature, social causes, the human form, color, feelings etc. The two artists in the exhibitions are inspired by history in its broadest sense.
Painter Cecily Brown sources a wide variety of materials, often works by well known masters of art history, like Edgar Degas and William Hogarth, but also popular culture, like the 1968 record cover of Jimi Hendrix' Electric Ladyland.
Portland based Midori Hirose is interested in excavating community stories. For this exhibition she focuses on the culture and the environment of Santa Barbara.
Past Art Labs
Experiment with ideas of appropriation and abstraction found in Kota Ezawa: The Crime of Art in the Art Lab, an interactive interpretive space…
Experience the exhibition Barry McGee: SB Mid Summer Intensive in a whole new way in the Art Lab, an interactive interpretive space that…
Featuring Cecily Brown: Rehearsal and Bloom Projects Exchange Series: Midori Hirose, Of the Unicorn (And the Sundowner Kids) January 28 - June 3,…