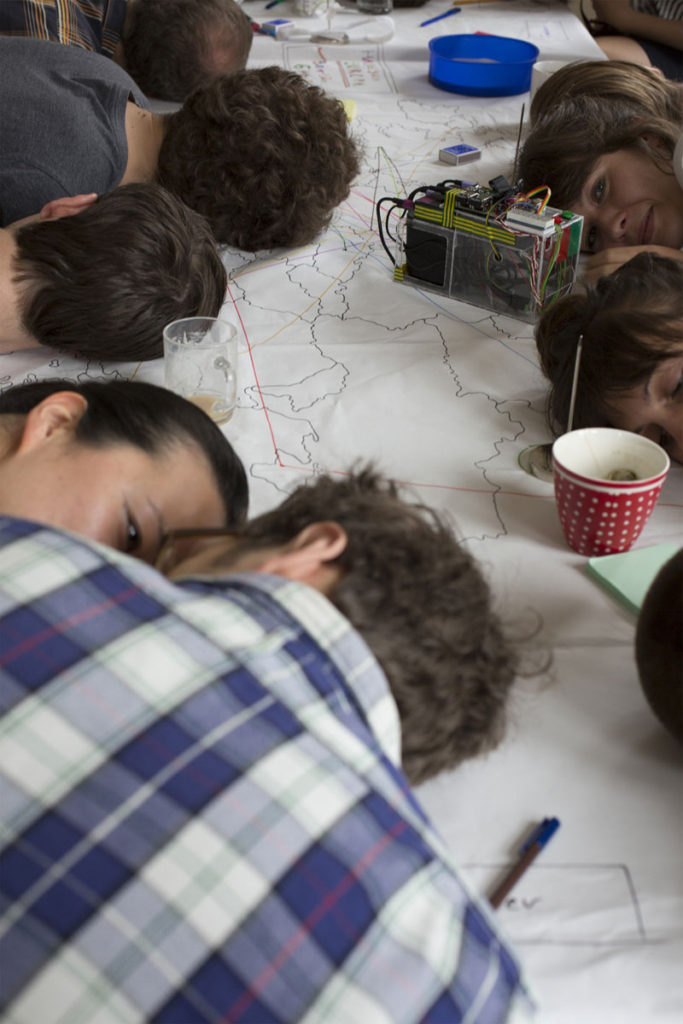 Rimini Protokoll, Home Visit Europe, 2015, Courtesy the Artists. Photo: Pigi Psimenou
Home Visit USA, a participatory performance by internationally-renowned German-Swiss artist collective Rimini Protokoll, will premiere in January 2017 at Museum of Contemporary Art Santa Barbara (MCASB), as part of the exhibition, Rimini Protokoll: City as Stage. The performance involves small groups gathering together at private homes around Santa Barbara, experiencing cultural exchanges with strangers in improvised situations. Set around a living room table, audiences play a game in a conversational atmosphere where they talk about the ever-changing ideas of what defines our country—focusing on issues that include cultural identity, values, and borders.
During the performance, the artists juxtapose the rather abstract and often hyperbolized idea of national identity in the United States. What starts out feeling like a political gathering soon takes a turn: maps are spread out and an acoustic backdrop begins to emerge; challenges arise, and together, decisions are made. Personal anecdotes and the United States' current political climate become intertwined.
For an insider view of Home Visit USA, check out this story from KCRW.
For more information about the work, which has been performed in twenty-three European cities in collaboration with numerous esteemed theater venues prior to its US premiere at MCASB, please visit the Home Visit Europe performance website.
Purchase tickets ($15):
Audience members must be age 18 or over

Thursday, April 27, 2017, 7 - 9 pm
Notes about the performance:
Location
Every performance will take place at a different person's home.
Exact addresses of each residence will be provided to the ticketed guests (by email) in the week prior to each performance.
All performances will take place in Santa Barbara, so based on where you are located please plan on appropriate travel time to get to location.
Refunds & Cancellations
Tickets are non-refundable.
The success of the performance is dependent on a sold-out show of exactly 15 participants. Should you not be able to attend, please email engagement@mcasantabarbara.org immediately (at least 24 hours in advance).
Rimini Protokoll (composed of Helgard Haug, Stefan Kaegi and Daniel Wetzel) is a Berlin-based artist collective whose work is presented and toured around the world, often appearing in public spaces, renowned theater venues, museums, and commissioned by major festivals including Festival d'Avignon, FR; Singapore International Festival of Arts; Territory Festival Moscow, RU; D-CAF Cairo, EG; Melbourne Town Hall, AU; Skirball Center for the Performing Arts, NY; and Walker Art Center, MN. They have received numerous prestigious awards including Faust Theatre Prize in 2007; Silver Lion of the Biennale for Performing Arts in Venice in 2011; Excellence Award of the 17th Japan Media Festival in 2014; and the Swiss Grand Prix of Theatre in 2015.
Home Visit credits:
Rimini Protokoll team
Concept / Script / Direction: Helgard Haug, Stefan Kaegi, Daniel Wetzel; Dramaturgy: Katja Hagedorn; Interaction Design: Hans Leser, Grit Schuster, Mirko Dietrich; Artistic Collaborator Tour: Anton Rose, Cornelius Puschke; Setting: Belle Santos, Lena Mody; Production Management: Juliane Männel, Anna Florin; Technical Direction: Sven Nichterlein
Museum of Contemporary Art Santa Barbara team
Curator: Brooke Kellaway; Director of Community Engagement: Monika Molnar-Metzenthin; Master of Ceremonies: Ted Mills; Assistant: Sarah Dildine; Coordinator: Melanie Ball; Technician: Jon Reed
Home Visit Europe is a production of Rimini Apparat. Developed in coproduction with Archa Theatre Prague (CZ). BIT Teatergarasjen/Bergen International Festival (NO). Frascati Teater Amsterdam (NL). HAU Hebbel am Ufer Berlin (D). Kaaitheater Brussels (BE). LIFT London (GB). Malta Festival Poznan (PL). Mungo Park (DK). Sort/Hvid (DK). Teater Nordkraft (DK). Théâtre de la Commune Aubervilliers (FR). Théâtre Garonne (FR). Teatro Maria Matos (PT).
A House on Fire commission / coproduction with the support of the Cultural Program of the European Union. The project is supported by Capital Culture Fund Berlin.