Museum of Contemporary Art Santa Barbara (MCASB) is pleased to present the University of California, Santa Barbara (UCSB) Master of Fine Arts 2020 cohort exhibition Unending on view from Saturday, August 21 - Sunday, September 12, 2021. Originally intended as the culmination of their 2020 MFA degrees, these artists take up the personal and cultural cycles of grief & transformation in order to congeal a new vision.
Unending is a registration of the past broken by the present, allowing for deeper contemplation and immersion to take place. This exhibition showcases the collapse of time, tradition, and production, culminating in something more slowly realized and returned to.
Unending features the work of Serene Blumenthal, Kio Griffith, Megan Koth, Marshall Sharpe, Thomas Stoeckinger, and David Wesley White, working across the mediums of sculpture, photography, installation, video, and painting. Click here for more information about the UCSB Art Department.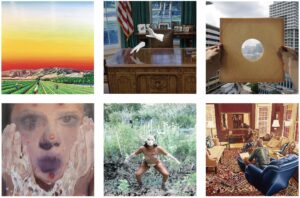 Artist credit, clockwise from top left: Thomas Stoeckinger, David White, Kio Griffith, Marshall Sharpe,
Serene Blumenthal, and Megan Koth.