Established 1994
The Andrea Lang Fund (ALF) at MCASB was established in 1994 in memory of artist Andrea Lang who died in the 1990 Painted Cave fire in Santa Barbara. ALF seeks to support, create, and fund innovative interaction among artists, students, and cultural organizations who display a unique sensitivity to nature and encourage education through the visual, media, and performing arts. The follow types of programs are funded by ALF:
Honoraria to artists working with students through workshops and mentoring situations for students
Artist in residence honoraria for artist(s) working with students in a gallery setting
Exhibitions of work produced through such projects
Educational programming supported by ALF in the upcoming 2015/2016 season includes partnering with local schools for artist-led workshops through MCASB's Visiting Artist Series. Stay tuned for further educational programs made possible by the Andrea Lang Fund.
To make a donation to the fund please contact development@mcasantabarbara.org or follow this link to our donations page. We thank you for your support.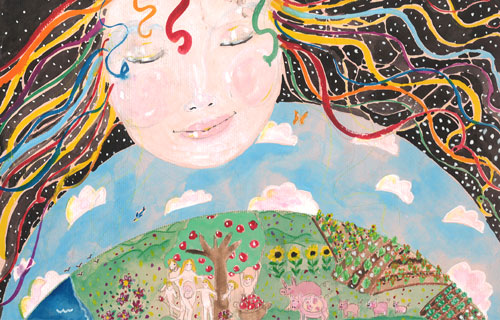 2016 -2017 Programs funded by the Andrea Lang Fund
In the summer of 2017 MCASB showed Free Play, an exhibition that brought together contemporary furniture, architecture, artworks, and objects from an international selection of designers, architects, and artists. The exhibition centered around the idea of play as an influential actor in the design process and featured objects which appropriate childhood motifs, employe satire, and generate form through chance. This sense of freedom resulted in works that are wonderfully illogical, whimsical, and poignant.
One piece in particular, Mothering the Form, Tanya Aguiñiga, 2014 inspired our engagement department to explore the connections between art, nature, feelings, and artistic expression with groups of children and teenagers as part of our Visiting Artist Series. The activity brought together elements from nature - clay, raw wool, and twigs - and asked participants to create sculptures inspired by notions of shelter, protection, and safety.
In July 2017 artists April Bojorquez and Matthew Garcia of desertArtLAB lead a two week summer camp at Harding University Partnership Elementary School as part of MCASB's community outreach program takepart | makeart: arte para todos, where participants learned about desert ecologies and created observational drawings and colorful paper mache cacti sculptures. The camp culminated in a neighborhood Féria de la Tierra showcasing the young artists' work in a collaborative performance sculpture in a celebratory atmosphere, including food and refreshments, additional art activities, live music, and even a cacti themed bouncy house, which was designed based on a drawing by the artists' son.
Programs Funded by the Andrea Lang Fund in prior years
In 2016 the exhibition Beyond 2º, with a focus on environmental and social effects of natural resource extraction, offered a multitude of inspirational art work from which we drew for our programming around the framework of nature and science, supported by the Andrea Lang Fund, specifically for children. The museum's Engagement department worked with seven classrooms of 4th, 5th and 6th graders at three local elementary schools as part of our Visiting Artist Series (kids), a multi-visit outreach program to schools that includes a field trip to the museum.
Three classes of 4th grade students developed and documented sculptural mythical creatures that had adapted to survive in a changed environment, made solely from upcycled materials. In celebration of the environmental themes of reduce, reuse, and recycle, two classes of 5th grade students created ceramic Earth Cups using traditional ceramic hand-building techniques for all students at their school for their annual art show. Two classes of 6th grade students contributed to a mixed media installation project Save/Protect combining found natural objects, a ceramic sculpture of something in nature that students want to save, and a three dimensional environment. The installation included a video of statements by the young artists and was displayed at the annual art show.
In July of 2016 MCASB offered Art Explorer Camp, a week long summer camp for children aged 5 - 12, in collaboration with local environmental organization Explore Ecology. Inspired by Robert Zhao Renhui, A Guide to the Flora and Fauna of the World, 2013, campers used a variety of recycled materials to sculpt ocean creatures and wrote statements about these environmental survivors which then got photographed and laid out following the format of Renhui's original book.
In July 2015, MCASB and AHA! (Attitude Harmony Achievement) collaborated on the AHA! summer camp Healthy Living using the museum's exhibitions as a starting point to delve into aspects of healthy love. Fifty teenagers and ten AHA staff joined museum staff, interns, and Teen Insiders at MCASB Satellite at Hotel Indigo for two days, including a tour through the exhibition Magic Mountain with its focus on art, nature, science and healing. Hands-on art projects inspired by artworks complemented the experience: an assemblage self-portrait accompanied by a color collage exploring the emotional properties of color.
In fall of 2015, MCASB kicks off a monthly collaboration with Casa Serena, a residential treatment center for women with addiction, with a tour through Magic Mountain, exploring questions of health, art, and science, followed by a therapeutic art activity.
In fall of 2014, artist Christopher Ulivo conducted a workshop with members of Girls, Inc., by leading the youth through a science fair-inspired project in which teams created a presentation of drawings and models describing a fantastical solution to an elaborate imaginary problem. The workshop examined our human impulse through the sciences, as well as mythology, to provide explanations for the unknown.
Also in Fall 2014, media artist Marco Pinter led a workshop with students from Santa Barbara City College. The students experimented with physical movement and heat-sensitive objects which were captured by a thermal camera and projected onto a screen. The images were recorded and used later by the students in a separate project inspired by Pinter's work.
In July 2015, Museum of Contemporary Art (MCASB) and AHA! (Attitude Harmony Achievement) collaborated on the AHA! summer camp Healthy Living using the museum's exhibitions as a starting point to delve into aspects of healthy love. Fifty teenagers and ten staff toured the exhibition Teen Paranormal Romance, engaging in conversations exploring the teen psyche, facilitated by community engagement staff, interns, and participants in the museum's Teen Insiders Project; on Tuesday, the same groups joined staff, interns, and teen insiders at MCASB Satellite at Hotel Indigo for a tour through the exhibition Magic Mountain with its focus on art, nature, science and healing. Hands-on art projects inspired by works of artists in the exhibitions complemented the experience.
Since 1994, the Andrea Lang Fund (ALF) has provided support for a number of nature- and science-based art outreach programs. A selection of recent programming follows.
In November 2013, Call For Entries 2013 exhibiting artist Christopher Ulivo partnered with Cleveland Elementary School and the Incredible Children's Art Network (ICAN) to lead a Visiting Artist Series (VAS) workshop for their 3rd-4th graders. Using landscape drawing as their medium, Ulivo provided a prompt in which students worked together to create a fictional retirement center while considering various environmental challenges.
Also in the fall, Call For Entries 2013 exhibiting artist Marco Pinter lead a workshop in which Santa Barbara City College students brought in natural items/elements from their environment to view with a thermo-imaging camera. Students made photographic compositions, using these items and transferred body heat.
In March 2014, Bloom Projects exhibiting artist Zack Paul paired up with Cleveland Elementary and the Incredible Children's Art Network (ICAN) to lead a Visiting Artist Series (VAS) workshop for their 4th-5th graders. Referencing his work on geometric abstraction, the students created geometric landscapes inspired by their surroundings and the natural environment.
In March 2014, artist and curator Christina Ondrus facilitated a Sessions Program discussion entitled "Art & Science", leading a participatory seminar conversation about environmental art, installation, and astronomy.
In addition the AL Fund helped to support a new program called Second Saturdays, which consists of tours of and speakers in conjunction with the themes at MCASB's public, satellite location at the Hotel Indigo Santa Barbara. The 2014 exhibition, entitled The Vastness is Bearable, references a quote from Carl Sagan's novel Contact, "She had studied the universe all her life, but had overlooked its clearest message: for small creatures such as we the vastness is bearable only through love." Inspired by this quote and the themes of the book, The Vastness is Bearable features artists whose work reflects human fascination, curiosity, and awe with the universe. The corresponding programming explored these themes, and are in alignment with the Andrea Lang Fund's vision:
In July 2014, Javier Rivera, Planetarium Director for the Santa Barbara Museum of Natural History, facilitated a family-friendly astronomy demonstration. Using participatory tactics, he engaged the audience in a conversation on size and distance of solar bodies in space.
In August & September of 2014, astrophysicist Matteo Cantiello facilitated a discussion on the ingredients and lifespan of stars, and lead audience members on a tour of the universe.
In October 2014, doctoral student Elijah Quetin lead a conversation on the pervasive nature of science, and how these numbers and patterns can be found in art, nature, and music.
In November 2014, Dr. Jatila van der Veen, a physicist from UC Santa Barbara, will be leading a talk on cosmology and the past, present, and future of the universe.